Like most manufacturing companies, we are passionate about our products. But first we are passionate about our customers. We're here for your benefit. This drives what we do and how we behave. We strive for excellence in everything – from product design and production to sales and customer support.
As an adolescent owner Kirk Olsen was lucky enough to have his first exposure to what would in a sense thereafter, become his future. The more he learned about the world of GFRC (glass-fiber reinforced concrete) the more he was eager to know. While immersed in the product's potential Kirk not only recognized the cause of many manufacturing problems, but found excitement in learning how to outwit the challenges before they occurred.
A passion for creation developed. Since that day years ago, when he starting sweeping the floors in a manufacturing plant, he's explored the vastness of concrete, patching parts and matching colors as well as textures.
Enthusiastically venturing out on his own as Infinite Accents, Kirk worked for years building an honest and reputable custom casting company with a small crew of loyal and extensively trained individuals.   Utilizing years of experience in the industry we're branded for customizing each project and continuously strive to exceed our customers' expectations for perfection.
Impeccable timing played an enormous hand in the purchase of Stone Mountain Castings & Design in February of 2012.  Taking the high-end fireplace mantel retail store and raising it even higher with its new ability to customize not only cast fireplace surrounds, but nearly any cast product. By using the latest materials and casting technology, we are able to produce mantels that are lightweight yet durable. Our skilled craftsmen have the ability to create fireplace mantels and other products that look like fine, hand-carved stone in virtually any kind of finish.
As an expert in concrete and GFRC (glass fiber reinforced concrete) materials Kirk has been featured on episodes of HGTV, DYI Network, and has developed his own line of pre-mixed materials for making concrete countertops that is distributed nationally. He also helped develop the current Stone Mountain Castings color line and inventory of designs. Considering Kirk's background and experience, it is unlikely you will find anyone in the Western United States better qualified to produce cast fireplace mantels and accessories.
The Team Behind Stone Mountain
We are an award-winning, family-owned precast provider with more than 50 years of combined industry experience. Our hardworking staff is the key to our success.
Stone Mountain has had an amazing journey since its foundation and we believe that we would not have achieved so much without the help of our employees who strive to provide the best customer service while also providing high quality cast concrete applications. Meet our teams of professionals who have embraced our corporate culture allowing us to grow and become a leader in the industry.
Whether it's a personal home mantle or installment for your business, we see the process through with you, one on one. Designing with CAD Drawings, we assist you from your big idea, to the moment when it's ready for it's own photo. We're sure you will find something in our extensive product line to match your lifestyle.
The process begins by reviewing the project and assessing the needs of the customer. The project specifications are drawn and approved before an agreement is drafted. Upon approval of the detailed drawing, an agreement is signed, and a deposit will secure a position on the production schedule.
Once the project is cast, delivery and installation are scheduled. Typical turn around from start to finish is 2 to 3 weeks.
Color adds permanent beauty and value to precast concrete. It can make a building blend in with or stand out from its environment to fulfill the artistic visions of the designer. Long known as a dependable and economical alternative to paint and other surface-applied coatings, integral color is part of what makes precast concrete attractive.
19 standard colors
*The Color Samples are only a representation and actual colors will vary slightly depending on Screen resolution*
You can order 5" x 5" color samples of the exact material and color here:
Purchase Samples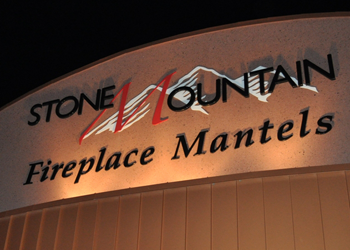 Our spacious fireplace showroom is located in Draper Utah, with over 30 different mantel styles on display. Stop in today or call to set a free in-home consultation. We are continuously striving to be your premiere choice for cast concrete products.
380 West 12300 South, Suite 102
Draper, UT  84020
801.495.9797
380 West 12300 South, Suite 102 Draper, UT 84020

Location Coming Soon!
840 Second Street, Sanford, Colorado  81151
(719) 849-8210
840 2nd St, Sanford, CO 81151
Why use Stone Mountain Castings for my new fireplace mantel?

Established in 2000, Stone Mountain Castings is a member of the Better Business Bureau and carries a triple-A rating. Our beautiful showroom located in Draper, Utah features the largest selection of fireplace surrounds and mantels in the Western United States. Our sales staff is knowledgeable, friendly and courteous – we are here to help and we welcome any questions you may have. We employ experienced craftsman, who manufacture and install your new custom fireplace mantel using the latest techniques and materials to give you a beautiful and long-lasting mantel that will enhance the decor of your room. We are the leader in Utah custom fireplace mantels because we care.

Where are you located?

The address is 380 West 12300 South, Suite #102, Draper, UT 84020. To get to the showroom from I-15 take Exit 291 (12300 South) and go West for 1/4 mile. The showroom is located on the North side of the street.

Will adding a custom fireplace mantel add value to my home?

Yes. In fact, experts agree that in today's uncertain real estate market the best investments are those that add beauty, comfort and an upscale feel to the home with minimal outlay of cash. Custom made cast stone fireplaces and mantels from Stone Mountain Castings gives you the look and feel of hand-crafted stone at a surprisingly affordable price.

I don't really know very much about fireplace mantels. Will you help guide me in my mantel selection?

Absolutely. We are committed to do whatever it takes to give you the knowledge you need to make an educated decision. Our goal is to provide you with the very best solution for your home, regardless of the budget. Come in and let us show you how easy it is to own a beautiful custom-crafted fireplace surround.

What makes your fireplace mantels stand out from all the others?

Two things: 1. We have the largest selection of stock designs in the Western United States, plus we have the ability to custom make any mantel design. 2. Our mantels are constructed of lightweight and extremely durable materials. We guarantee you will love your new Stone Mountain fireplace mantel for many years to come.

Do you offer a warranty?

Yes. We offer a one-year warranty that covers any defects in materials or workmanship.

How long from when I order a mantel until it is installed?

Turnaround time is typically is two weeks.

What should I do to prepare on installation day?

If we are replacing an existing mantel it should be removed from the wall. We require a clear path from the street to the wall where the fireplace is located.

How long will the installation take?

Most installations take less than half a day.